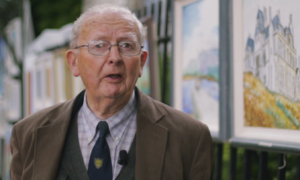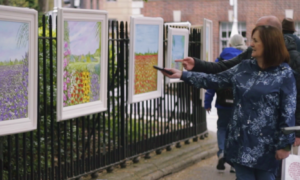 The exhibition of paintings on Merrion Square began in 1985 and has continued to grow ever since.  Over the years the exhibition has expanded so much that it now includes three sides on Merrion Square covering over half a kilometre of railings.
Each pitch is indicated by a small number set into the pavement and licences are granted and renewed to the artists each year to exhibit.
Q: How do I apply to exhibit on Merrion Square?
A: You have to contact Dublin City Council, Culture, Recreation & Amenity Department, Casual Trading Section, Civic Offices, Wood Quay, Dublin 8, Ireland by emailing:  casualtrading@dublincity.ie to be put on the waiting list.
Q: How long is the waiting list?
A: The waiting list is less than a year long at the moment.
Q: Do I need anything else?
A: You need public liability insurance.  You will be forwarded details when you are offered a pitch.
You will also need a valid tax clearance certificate.
Q: How big is art space?
A: You get about 8 feet of space on the railing to exhibit your paintings.
Q: Can I have my website listed on merrionart.com?
A: If you are an Artist exhibiting on Merrion Square then you can have your website listed here for free.