Merrion Square is especially known for its Georgian houses with their brightly painted doors and their fanlights, Leinster House, and the National Gallery.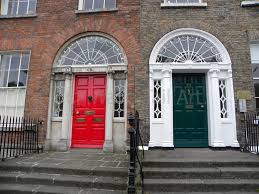 Plaques on the walls of the Georgian houses that surround Merrion Square show the famous people who used to live there:
No. 1 Oscar Wilde,
Nos. 52 and 82 William Butler Yeats
No. 58 Daniel O'Connell
No. 70 Sheridan Le Fanu
No. 84 George William Russell
No. 77 Andrew O'Connor Sculptor
No. 65 Edward Schrödinger
No. 64 John Lighton Synge.
Merrion Square was set out between 1762 and 1764 and three sides of it remain the finest example of Georgian Architecture to be seen in Ireland. The fourth side is occupied by Leinster House and the National Gallery.
The Merrion Square park was originally kept for the private use of the residents of the surrounding buildings.  The Catholic Church purchased it as a possible site for the first catholic cathedral in Dublin.  The park was leased in 1974 by the St Laurence O'Toole Diocesan Trust (acting on behalf of the Archdiocese of Dublin) to the Dublin Corporation for public use.  Now you can walk in the park in the sunshine and enjoy the free concerts during summer as well as viewing the art on display on the railings on Sundays.
There are many fine sculptures dotted around the park, each with it's own commemoration of historical events or people.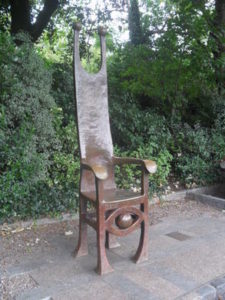 One of the most loved of all is The 'Jesters Chair' a memorial to Writer, Satirist, Actor and Comic Dermot Morgan. He won a BAFTA for the best comedy performance in 1998 and is best remembered for his role as Father Ted Crilly in the television series Father Ted.  He died on 28th February 1998 of a heart attack just 24 hours after recording the last episode of Father Ted while hosting a party in his home.
Oscar Wilde by Danny Osborne: The sculpture is created using different coloured stones from around the world. His jacket is made of nephrite jade, his cuffs and jacket collar are made from thulite, trousers from blue stone granite from Norway, shoes from black Indian granite and his green carnation, buttons and shoelaces are made from bronze.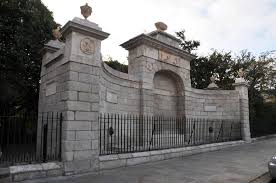 On the west-side of the square is the Rutland Fountain dating from 1792.  The fountain is a commemoration of the Duke of Rutland, Charles Manners who commissioned the piece before his untimely death at the age of thirty-three. Originally water poured from the two bronze lion heads on either side and from the small central conduit water flowed into a large stone conch shell at the base of the fountain.  It was restored in late 2008 and 2009.